Cray Mero was a human Jedi Guardian born on Tatooine 21 B.T.C.
EARLY LIFE
Edit
Cray was a slave born on the desert planet of Tatooine.Cray loved history but never had time to read because of his work.When he was 9 he ran away and met a jedi master named Voltron.Cray and Voltron then discovered that Cray was force sensitive and was the desendant of Darth Revan himself.
JEDI TRAINING
Edit
Then, Voltron took in Cray for Jedi training and with in a year he was a master in the Jedi, Combat, and history.
AFTER THE SACKING OF CORUSANT
Edit
Then after the Sacking of Corusant and the death of his master and friend, Cray found the Delta Legion and took him as there own.
WEAPONS,SHIP
Edit
Cray had one of the most unusel but most powerful weapon in the jedi arsonal.Also Cray had a personal command ship that was large, slow, and powerful called THE GREAT REPUBLIC and is own starfighter called THE REVAN'S REVANGE. Also the weapon he had was a black and golden lightsaber.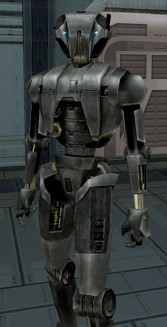 Cray had his vary own moddified HK-51 which was equiped with a disruptor rife, a disruptor pistol,and severl thermal detonator and plasma granade.

Cray had the brother of Darth Recluse, Lord Arachnid, as his padawan and he, unlike his brother, was a saint of the light.